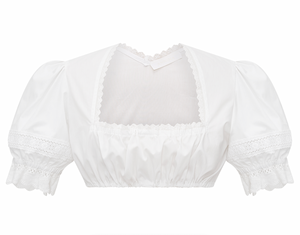 The Eva Blouse stands out with its intricate lace inserts on the slightly puffed sleeves and the playful ruffles along the neckline. The soft and lightweight cotton material makes for comfortable wear.
Made in the U.K.
100% Cotton
Machine Wash Warm
True to size
Ready to ship
Available for return within 14 days of receipt

All of our garments are hand-crafted and sewn with love and care in the U.K. 
Any item you purchase is one of a kind. The product you receive might vary slightly from the product pictures with small differences. The handcrafted nature of this item is what makes it beautifully unique.